COVID-19 UPDATE
To our patients, friends and family:
My highest priority continues to be the health and well-being of Newtown Dental Arts patients and team members. As a result of the evolving impact of the COVID-19 (novel coronavirus) national and state emergency declarations, and in compliance with the requests made by State and Federal Administrations, I will be restricting the dental care provided to patients to *only* emergency care, for the next two weeks.
This decision was not made lightly. After considering advice from fellow healthcare professionals, the American Dental Association and the Center for Disease Control, our team believes that we are acting in the best interest of our close-knit community. We must all do our part to "flatten the curve" and mitigate the risk of person-to-person contact, by staying home.
During this time, I will be available for patients who experience a true dental emergency. Please call our office at 215-860-4141 and listen to the prompts to be connected to the emergency paging system.
If your upcoming appointment has been cancelled, you will receive direct communication from our Patient Care Team, via text, email and/or phone call. For non-emergent requests, you may leave a message in our general office voicemail, which will be checked at least once each day. You may also email us at [email protected].
We appreciate your patience and understanding during these unprecedented, challenging times. As this is a fluid situation, we continue to monitor the advice of our government, the ADA and CDC and will continue to send updates as necessary.
We hope you will join us in staying home and staying healthy.

Very sincerely,

Dr. Renée Feldsher
Online Dental Education Library
Our team of dental specialists and staff strive to improve the overall health of our patients by focusing on preventing, diagnosing and treating conditions associated with your teeth and gums. Please use our dental library to learn more about dental problems and treatments available. If you have questions or need to schedule an appointment, contact us.
You always brush twice a day, avoid sugary snacks between meals, and go to the dentist regularly. Do you still have to floss your teeth?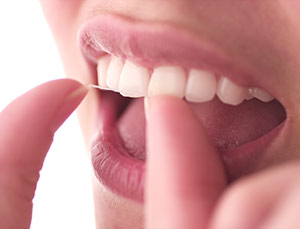 The short answer: Yes, at least once a day. Flossing is probably your single most important weapon against plaque, the clingy bacterial biofilm that sticks to the surfaces of your teeth. Plaque is the principal cause of tooth decay; but it is also the cause of periodontitis (gum disease), bad breath, and other maladies. Brushing is a good start — but flossing removes plaque in places a brush can't reach, like the small gaps between teeth and under the gums. It also polishes tooth surfaces and decreases the risk of gum disease.
Some people may think they don't have time to floss, but once you get the hang of it, flossing only takes few minutes. If you are going to floss only once a day, it's best to do it at night just before going to sleep. That's because there is less saliva present in your mouth when you are sleeping, so plaque is more concentrated and potentially more harmful. Just in case you never really learned proper flossing techniques, here's a step by step approach including some easy tips for doing a great job.
Proper Flossing Technique
Cut off a piece of floss about 18 inches long. Wind it around the middle finger of both hands leaving a gap of around three or four inches. You will now be able to use different combinations of your thumbs and index fingers to correctly position the floss between your teeth for all areas of your mouth.

TIP: The most common mistake people make while flossing is that they tighten their lips and cheeks making it impossible to get their fingers into the mouth. Relax your lips and cheeks.

Now, guide the floss gently into the space between your teeth.

TIP: Even if the gap is tight, try not to snap the floss into your gums as you're inserting it. A side-to-side sawing motion is good to use here, but only when slipping the floss gently between the teeth.

There are two sides to each space between your teeth and you must floss each side separately so as not to injure the triangle of gum tissue between your teeth. Run the floss up and down the surface of the tooth, making sure you are going down to the gum line and then up to the highest contact point between the teeth. Apply pressure with your fingers away from the gum triangle, letting it curve around the side of the tooth forming the letter "C" with the floss.

TIP: You want your fingers as close to the front and back of the tooth as possible so both fingers move in harmony up and down until you hear a squeaky clean sound. This is easier with unwaxed floss. The smaller the amount of floss between your fingers, the more control you have flossing.

Next, move your fingers to the top contact area between the teeth and slide across to the other side of the space. Apply pressure with your fingers in the opposite direction and repeat.
Slide the floss out from between the teeth. If it's frayed or brownish, that's good: you're removing plaque! Unwind a little new floss from the "dispenser" finger, and take up the used floss on the other finger.
Repeat the process on the next space between teeth. Work all around the mouth — and don't forget back sides of the last molars.
Variations for Comfort
If you're having trouble with the two-finger method, here's another way to try flossing: Just tie the same amount of floss into a big loop, place all your fingers (but not thumbs) inside the loop, and work it around your teeth with index fingers and thumbs. All the other steps remain the same.
Once you've got the basics down, there are a few different types of flosses you can try, including flavored, waxed, and wider width. Some people find waxed floss slides more easily into tighter gaps between teeth or restorations — but it may not make that satisfying "squeak" as it's cleaning. Others prefer wide floss for cleaning around bridgework. But whichever way works best for you, the important thing is to keep it up!
Related Articles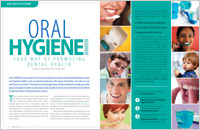 Oral Hygiene Behavior — Dental Health for Life The best tools for maintaining your oral health and minimizing dental problems are a quality toothbrush, toothpaste, a roll of dental floss, approved mouthwash and good diet. This article details a winning game plan for oral health... Read Article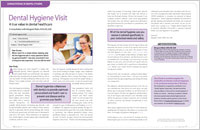 Dental Hygiene Visit There's a lot more going on at your regular dental hygiene visit than a feel-good polishing! Dental hygienists collaborate with dentists to provide optimum personalized oral health care to prevent oral disease and to promote your health... Read Article