COVID-19 UPDATE
To our patients, friends and family:
My highest priority continues to be the health and well-being of Newtown Dental Arts patients and team members. As a result of the evolving impact of the COVID-19 (novel coronavirus) national and state emergency declarations, and in compliance with the requests made by State and Federal Administrations, I will be restricting the dental care provided to patients to *only* emergency care, for the next two weeks.
This decision was not made lightly. After considering advice from fellow healthcare professionals, the American Dental Association and the Center for Disease Control, our team believes that we are acting in the best interest of our close-knit community. We must all do our part to "flatten the curve" and mitigate the risk of person-to-person contact, by staying home.
During this time, I will be available for patients who experience a true dental emergency. Please call our office at 215-860-4141 and listen to the prompts to be connected to the emergency paging system.
If your upcoming appointment has been cancelled, you will receive direct communication from our Patient Care Team, via text, email and/or phone call. For non-emergent requests, you may leave a message in our general office voicemail, which will be checked at least once each day. You may also email us at [email protected].
We appreciate your patience and understanding during these unprecedented, challenging times. As this is a fluid situation, we continue to monitor the advice of our government, the ADA and CDC and will continue to send updates as necessary.
We hope you will join us in staying home and staying healthy.

Very sincerely,

Dr. Renée Feldsher
Online Dental Education Library
Our team of dental specialists and staff strive to improve the overall health of our patients by focusing on preventing, diagnosing and treating conditions associated with your teeth and gums. Please use our dental library to learn more about dental problems and treatments available. If you have questions or need to schedule an appointment, contact us.
If you have lost an entire arch of teeth (top and/or bottom), or are soon to have your remaining teeth removed because they are too unhealthy to save, you may be able to replace them with fixed dentures supported by dental implants. Doctors and patients alike prefer fixed over removable dentures because they:
Look, feel and function just like natural teeth
Don't slip when you eat or talk
Prevent bone loss in the jaw
Last a lifetime
How It Works
Dental implants serve the same purpose as the roots of natural teeth: anchoring the replacement teeth to your jawbone. Just like natural tooth roots, they lie under the gum line and therefore are not visible in the mouth. Only the lifelike prosthetic teeth attached to them (the fixed denture) can be seen by you or anyone else. Because dental implants are made of titanium, a metal that has the unique ability to fuse to living bone, they are extremely stable and reliable. How many implants are needed? The number varies because each individual has unique conditions: Depending on the volume and density of the bone in your jaw, you will need as few as four implants or as many as six for your new teeth to function as well as a set of healthy, natural teeth.
What to Expect
The surgery to place dental implants that support a fixed denture is a simple, routine procedure carried out in an office setting, under local anesthesia in most cases. (If you need to have failing teeth removed, that will be done first, often the same day your implants are placed). After numbing the area, the appropriate number of implants will be placed in your jaw at precisely planned angles and positions to maximize support and avoid anatomical structures such as nerves and sinuses. Depending on how many implants are needed, the surgery can take anywhere from one to three hours. Most people who have dental implants placed find that any post-operative discomfort can be managed with over-the-counter anti-inflammatory medication such as ibuprofen or acetaminophen. Some don't even need to take that.
What happens immediately after surgery will depend on what's best to promote healing in your individual situation. Sometimes a set of temporary teeth can be attached immediately, so that you can leave the office with new teeth. A few months later, your permanent replacement teeth with be installed. In other cases, the implants will be left to heal for several months before any teeth are attached. Sometimes that is the best way to insure that the implants remain undisturbed as they go through the process of fusing to your jawbone, which is known as osseointegration.
In either case, you will need to go easy on your newly placed implants during the crucial healing phase following surgery. You will be advised to eat a softer diet and avoid hard, chewy foods until the process of osseointegration is complete — about three months. While this may seem like a long time, keep in mind that people who wear removable dentures often avoid these foods permanently. The good news is that once your implants have fused to your jawbone and your new permanent teeth are attached, you will be able to eat anything you want. In fact, you are likely to forget you even have dental implants!
Related Articles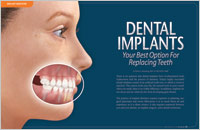 Dental Implants – Your Best Option For Replacing Teeth Dental implants have many advantages over older methods of tooth replacement like bridges and dentures — from the way they function and feel to the way they look and last. Vigorous research has documented and confirmed that in the right situations, dental implant success rates are over 95%. It is no exaggeration to say that they have revolutionized dentistry. They may even change your life... Read Article