Temporary Anchorage Devices (TADS)
COVID-19 UPDATE
To our patients, friends and family:
My highest priority continues to be the health and well-being of Newtown Dental Arts patients and team members. As a result of the evolving impact of the COVID-19 (novel coronavirus) national and state emergency declarations, and in compliance with the requests made by State and Federal Administrations, I will be restricting the dental care provided to patients to *only* emergency care, for the next two weeks.
This decision was not made lightly. After considering advice from fellow healthcare professionals, the American Dental Association and the Center for Disease Control, our team believes that we are acting in the best interest of our close-knit community. We must all do our part to "flatten the curve" and mitigate the risk of person-to-person contact, by staying home.
During this time, I will be available for patients who experience a true dental emergency. Please call our office at 215-860-4141 and listen to the prompts to be connected to the emergency paging system.
If your upcoming appointment has been cancelled, you will receive direct communication from our Patient Care Team, via text, email and/or phone call. For non-emergent requests, you may leave a message in our general office voicemail, which will be checked at least once each day. You may also email us at [email protected].
We appreciate your patience and understanding during these unprecedented, challenging times. As this is a fluid situation, we continue to monitor the advice of our government, the ADA and CDC and will continue to send updates as necessary.
We hope you will join us in staying home and staying healthy.

Very sincerely,

Dr. Renée Feldsher
Online Dental Education Library
Our team of dental specialists and staff strive to improve the overall health of our patients by focusing on preventing, diagnosing and treating conditions associated with your teeth and gums. Please use our dental library to learn more about dental problems and treatments available. If you have questions or need to schedule an appointment, contact us.
Every so often, in dentistry and other fields, a new technology comes along that promises to change the standard practices. TADS (Temporary Anchorage Devices) aren't exactly new — orthodontists have used them since the 1980s — but they're gaining widespread acceptance today. The benefits they offer some orthodontic patients could even be called groundbreaking. Let's look at what these devices are, and what they can do.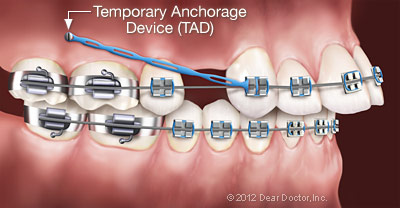 Essentially, TADS are small, screw-like dental implants made of a titanium alloy. As the name implies, they're temporary — they usually remain in place during some months of treatment, and then they are removed. Their function is to provide a stable anchorage — that is, a fixed point around which other things (namely, teeth) can be moved. But why is anchorage so important?
Moving teeth in the jaw has been compared to moving a stick through the sand. With the application of force, sand moves aside in front of the stick, and fills up the space behind. The "sand" in this case consists of bone cells and cells of the periodontal ligament, which attaches the tooth to the bone. These tissues slowly move aside and reform as force is applied to them by orthodontic appliances, such as wires and elastics.
But to do its work, that force needs a fixed point to push against. For example, imagine trying to move the stick while you're floating free in the water: Not so easy! But with two feet firmly planted in the sand, you can do it. When possible, orthodontists use the back teeth as an anchor — but sometimes, cumbersome headgear may be required to provide the necessary anchorage. In many cases, using TADS can change that.
What TADS Can Do
While it's generally preferred, the use of teeth as orthodontic anchors can have drawbacks in some cases. For example, there may not be a viable tooth located at the point where an anchor is needed. Also, when a greater force is required, the teeth used as anchors can themselves start to move. This is one instance where TADS are beneficial: These mini-implants can eliminate the need to use teeth as anchors, or stabilize a tooth that's being used as such.
TADS can also provide an anchorage point for a pushing or pulling force that would otherwise need to be applied from outside the mouth: generally, via orthodontic headgear. Wearing headgear can be uncomfortable, and compliance is sometimes a problem. In many situations TADS can eliminate the need for headgear, a welcome development for many patients.
The use of TADS offers other benefits as well: It may shorten overall treatment time, eliminate the need to wear elastics (rubber bands) — and in some cases, even make certain oral surgeries unnecessary. It also allows orthodontists to take on complex cases, which might formerly have proved very difficult to treat. This small device can really do a big job!
Getting (and Maintaining) TADS
Like dental implants (which have been in use since the 1970s) TADS are small, screw-like devices that are placed into the bone of the jaw. Unlike implants, however, they don't always need to become integrated with the bone itself: They can be fixed in place by mechanical forces alone. Plus, they're much easier to put in and remove when treatment is complete. How easy?
Placing and removing TADS is a minimally-invasive, pain-free procedure. After the area being treated is numbed (with an injection or other numbing treatment), a patient feels only gentle pressure as the device is inserted. The whole process can take just minutes to complete. Afterwards, an over-the-counter pain reliever can be taken if needed — but many patients need no pain reliever at all. And taking TADS out is even easier. So if you're worried that it may be a painful procedure: Relax! It's far less stressful than you may think.
While they're in place, TADS require minimal maintenance. Generally, they should be brushed twice daily with a soft toothbrush dipped in an antimicrobial solution. You will receive specific instructions regarding maintenance when your TADS are placed.
Not every orthodontic patient needs TADS — but for those who do, it's a treatment option that offers some clear benefits.
Related Articles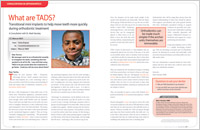 What are TADS? Anchorage, or resistance to movement, is an important concept in orthodontics. Anchorage in orthodontics is often supplied by a tooth or group of teeth that are supposed to stay still as forces are applied against them in a way that only the mal-positioned teeth will move — into better position. The challenge is to avoid the anchor teeth from moving too. That's where Temporary Anchorage Devices (TADs) come in. TADS are mini-screws or mini-implants temporarily placed into the bone of the jaws to be used as non-mobile anchor units that facilitate tooth movement. TADs can shorten orthodontic treatment time and are easily removed once they've done their job.... Read Article